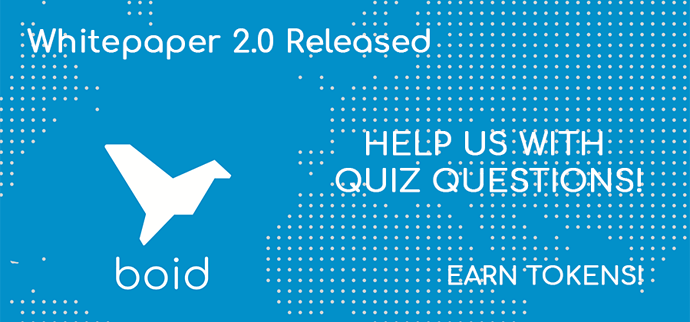 Hello Boid community and not only!
We would like YOU to read the latest Boid Whitepaper released by John Heeter and create questions based on that for
learn.boid.com
portal that we will release soon.
Rules are:
questions need to be based on information found in the whitepaper and functionality of Boid

create questions for each tier: Basic, Advanced and Pro

each level will have 3 levels: 1, 2 and 3

there will be 7 questions for each level BUT each person can only supply 1 question per each level in each tier

each question needs to have one or more good answers (please supply them as well)

for each question used we will pay:

10k for Basic Level 1
20k for Basic Level 2
30k for Basic Level 3
40k for Advanced Level 1
60k for Advanced Level 2
80k for Advanced Level 3
110k for Pro Level 1
130k for Pro Level 2
150k for Pro Level 3

Pro Questions - require users to review references, so answers cannot be found directly in the whitepaper

Advanced question - if you can find the answer in the whitepaper using CTRL+F then the question is disqualified

all submissions need to be given on a form supplied

each entry will only award registered Boid users

there will be a panel of 4 people who decide what questions to use
Boid Whitepaper 2.0 – https://www.boid.com/statics/Boid-WhitePaper-v2.pdf
Form link: https://forms.office.com/Pages/ResponsePage.aspx?id=bghl7qMVVUG0PQM6HBHJMv4gVfB9Nl1ErdAbz9cp6qxUODcyREE4TjU2WUdXTDFYRzlEODlCSUY5Mi4u
Whitepaper promo lasts until end of 1st April 2020 (23:59 GMT)
May the Boid be with you!