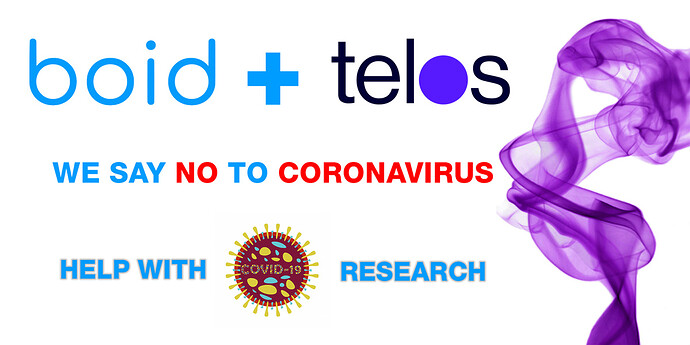 Boid & TELOS would like YOU to support COVID-19 (Coronavirus) research.
The world is facing even harder times fast if we don't find new ways to deal with this virus that's why we would like to get users to help scientists with the COVID-19 research. We're waiting for World Community Grid to allow us to do that but as time is a precious thing, we looked at other options for now and Folding@Home is the project that supports this research now. That's why we've setup a Boid&Telos team on Folding@Home.
What do you need to do to help?
Get yourself a TELOS account. If you don't have one yet you can do it on Telegram

@TeloscopeBot

or here: app.telos.net
Install software from here: Start Folding - Folding@home
as your user please enter your TELOS account name
enter our team number: 238663
Start processing work units by using your CPU & GPU.
We hope that together WE will get it done. Everyone can make a difference!
For your participation we have 2mln BOID and 2k TELOS in the first month!
20% of the pool will go to 3 random winners and 80% will be divided between everyone participating based on their input. For next few months until the cure/vaccine is found we will be giving out even more rewards!
DISCLAIMER: When you start using F@H miner your devices Boid power will go down.